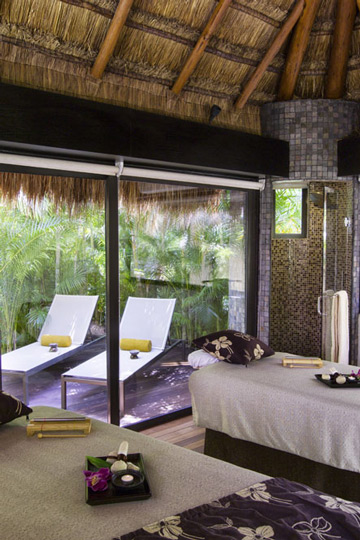 Signature collection
You´re worth it
---
"Chichen" diamond energy ritual 120 min
The diamond ritual is an infusion of life into the skin to preserve youth and beauty – a revolutionary experience that provides unprecedented rejuvenating results. This groundbreaking beauty treatment combines high-tech products along with the power of touch to totally transform your complexion.
Indulge in instant luminous radiance: a tighter, firmer, lifted and powerfully hydrated complexion. Experience the sensational journey of radical transformation. With our legacy for potent concentrations of exquisite ingredients, this collection defines our finest efforts in innovation.
"Ek Balam" inner beauty ritual 120 min
Free your inner beauty with this treatment focused on an instant lifting that redefines and shapes your body and face, giving the instant effect of a porcelain texture to your skin.
"Uxmal" aroma signature massage 90 min
A special therapy that harmonizes the 5 senses through balm essences that are used to relax, balance, detoxify and revitalize the body, mind and soul, providing you with ultimate well -being. This wonderful therapy combines different techniques (stone therapy, deep tissue and pressure points) that help restore and balance the nervous system.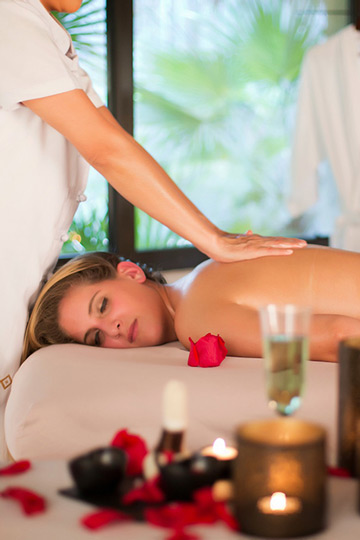 Massage collection
Bring back the balance
---
"Tuunich" warm relaxing massage | 80 min
Start your journey to deep relaxation through this amazing massage to recover your balance, sleep well and relieve anxiety with this gentle technique based on heated basalt stones.
"Sats" thai yoga massage | 90 min
A blissful combination of ancient techniques, Shiatsu (acute finger pressure) is applied over specific points of the body's meridian lines. It prevents and treats backaches, muscle spasms, migraine and anxiety among other benefits. The holistic therapy reestablishes the energy flow of vital organs and main chakras in the body. It uses the hands, feet, fingers and elbows and series of stretches similar to passive-induced yoga. It takes place on a special surface and requires light and loose clothing.
"Wenel" personalized massage | 50 min y 80 min
Relaxing | Deeep tissue | Sport
Regain physical well-being in your body with this massage dedicated to restoring the natural balance, promoting circulation and improving the quality of sleep with each of the techniques that best suit your stress level. The manipulations that go from soft to firm guarantee muscular relaxation, and they provide an effect of calm and balance in all the senses.
"Yo'om" Baby on Bord 50 min
A loving ritual for mother and baby, enjoy an intimate and relaxing spa experience with your baby and bump. A warm moisturizing mask to protect your stomach from the effects of tightening becomes a relaxing therapy for your baby, too. An expert therapist will be your guide, so that together you can provide a stimulating massage for your baby and deepen your maternal connection with the life that is forming inside you. Once your baby is relaxed, it will be time to pamper you with a hydrating facial and a treatment to relieve tired legs in preparation for the days ahead.
"Ook" Ancient Reflexology
With the combination of different techniques of your choice, this massage will achieve maximum benefits in a minimum amount of time. Choose the treatment zone of your preference: Back and neck massage or head, shoulders and neck shiatsu massage.
In-Room massage
There is an additional charge added to your bill if you request a service in your room (restrictions might apply).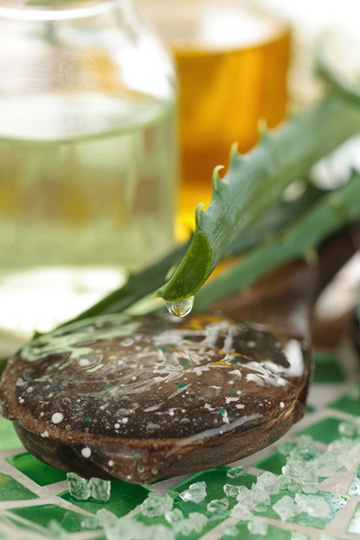 Facials
Fall in love with your skin again
---
Mystical mayan elements | 90 min
Based on the scientific discovery that high concentrations of natural free form collagen and elastin amino acids powerfully regenerate and restructure the skin, this magnificent line results in an intensive skin hydration and nourishment, restoration of natural elasticity and tone, and a deep rejuvenation and redefinition of the facial contours. This is a masterful ritual designed to provide an outstanding lifting effect while noticeably reducing wrinkles and expression lines.
"Ch'úupal" counturing facial | 90 min
Smooth lines and wrinkles while protecting and hydrating the skin. This revolutionary de-aging moisturizer rejuvenates, brightens, protects, and hydrates the skin. Specialized for mature skin with severe aging signs or those who want to avoid them. Great for those who want reduced lines and wrinkle depth, a smoother skin surface, and long-term protection of the skin's naturally repairing stem cells.
"Ts'aak" deep cleansing
This treatment is an antidote to the ravaging effects of the modern lifestyle on our skin. It counteracts the damage of stress, external aggressions and lack of sleep, which dull your complexion and accelerate aging. A new spa concept that cleanses, purifies and detoxes while providing an immediate state of well-being. The results: 24-hour luminosity and a glorious complexion. So take your moment, breathe and de-stress your skin with this powerful treatment.
"Ha" water recovery facial | 50 min
High performing and results-driven, the "Ha" Facial visibly enhances skin's texture and maximizes hydration. This refreshing, soft treatment combines the hydrating benefits of seaweed, the ocean's finest resource, with revitalizing Propolis, a natural healing and desensitizing substance, rich in natural antibiotics and Vitamin A. Soothing, cooling and calming, the "Ha" facial is tailored to promote healing and desensitize, reduce puffiness and redness, while addressing micro-circulation problems. Ideal for those with sensitivity, eczema, psoriasis, hormonal breakouts, and also recommended for men.
"Chak" facial caress | 30 min
The "chak" facial is specialized for hydration, calming and reduction of redness caused by rosacea. This gentle treatment moisturizes and protects. Recommended for those with hypersensitive skin and microcirculation problems, who want a fast, protecting and calming facial.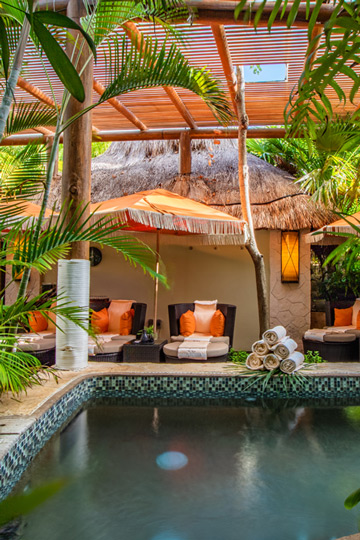 Body renovation
It's time to love the skin you're in
---
"Ts'íil" body renew polish
Transport your mind, body and spirit to a relaxing, naturally aromatic holistic skin renovation sanctuary. Drench your skin with hydrating and soothing anti-stress essential oils and detoxifying micro minerals for a rejuvenating experience.
Relieves dryness and irritation. Sea Salt mineralizes and provides an infusion of negative ions that neutralize the effects of pollution, stress and free radicals. Ideal for body skin conditions such as psoriasis and eczemas. For all skin types.
Choose between our three sophisticated aromas:
Lavender-jasmine
Jasmine extract moisturizes, soothes, and visibly smooths the skin. Lavender extract calms, softens, heals and decongests for an even tone.
Peach-vanilla
Peach fruit extract moisturizes and brightens the skin while protecting it from free radicals and stress. Vanilla extract is a natural antiseptic that repairs the skin.
Pineapple-coconut
Pineapple fruit extract is a natural anti-inflammatory, antioxidant. It mineralizes, brightens, and repairs the skin. Coconut extract moisturizes, repairs, protects and improves skin wellness.
"Sayab Ha" hydrating mud wrap | 50 min
An exquisite combination of marine salts, carrot oil, shea butter, pomegranate, vanilla, collagen polypeptides, elastin and hyaluronic acid are mixed to provide deep exfoliation and hydration with a high anti-oxidant content, for all skin types. Sport a more radiant skin!
"Lu'um" detoxifying mud wrap | 50 min
A sophisticated detoxifying mud wrap enriched with essential oils of pine, rosemary, camphor and menthol that will renew and revitalize your skin and improve your physical condition thanks to its healing, analgesic properties and its high content of vitamins and natural enzymes.
"Nikte-Ha" after sun recovery wrap
A body wrap designed to help skin that has been overexposed to the sun with a mixture of rejuvenating agents, such as Chamomile Extract, Green Tea, French Rose, Water Lily and hyaluronic acid that make this treatment a real remedy to soothe your skin.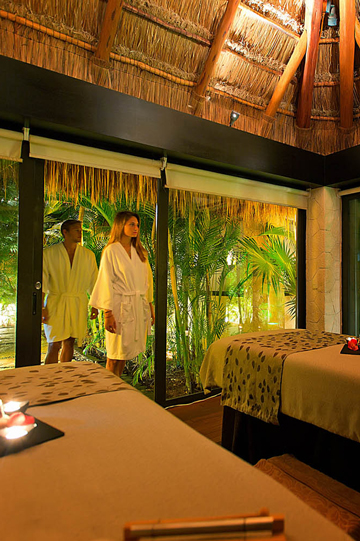 Couples experience
Escape from everyday life
---
"Yaakunah" lovers' ritual |100 min
This experience will transport you to a world of romance, comfort and relaxation with fragrances of natural essences, a body wrap made from Mexican magnolia and juniper extracts, followed by a relaxing massage, transporting you to a level of infinite harmony and serenity where two become one.
"Nuup" couples massage | 80 min
Escape and unwind side-by-side with a couple's massage for two. A perfect date with a special someone or a moment to relax with your best friend, family or couple.
Spa mani & pedi
Couple time is important, and if you are looking to connect, this is the perfect option. Enjoy a warm massage chair with your special one while we enhance the natural beauty of your hands and toes.