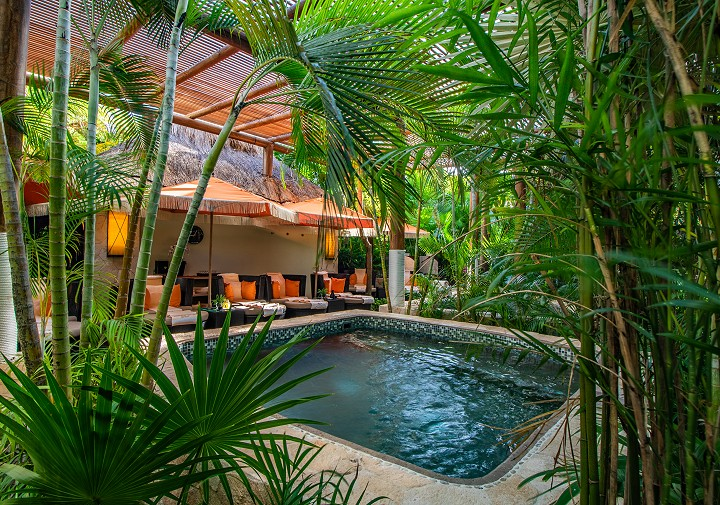 About Village Spa
The blissful Village Spa at Villa del Palmar Cancun is modeled on an ancient Mayan village, and its luxury treatment cabins are called Tikales, each of which represent one of the natural elements identified by the ancient wisdom of the Mayan civilization that dominated the area surrounding Cancun for centuries.
Amenities
Enjoy the Village Spa's divine wet areas before and after your treatment to ensure that relaxation enters every bone and fiber of your being.
9 Treatment cabins (2 for couples)
Mixed gender wet areas
Steam room
Cold plunge pool
Hot and warm Jacuzzis
Swiss showers
Luxury changing rooms with lockers
Robes and sandals
Refreshing drinks
Inspiration
Taking its inspiration from the ancient wonders of the Yucatan Peninsula and the Mayan civilization that dominated the area, Villa del Palmar Cancun's Village Spa honors the wisdom and healing legacy of its ancestors. Known for having preserved the ancient knowledge and curative practices of its Mesoamerican heritage, the Mayan culture is a source of effective healing rituals and relaxation techniques.
More specifically, the Mayan god, Chaac is central to the concept of the Village Spa. Chaac is the god of rain and prosperity representing the integral rejuvenation of the soul. As one of the main spiritual guides for the ancient Mayans, Chaac symbolized the four cardinal points and was represented by a T shape for the tears that fell from his eyes and to invoke the four cardinal points that touched the Ukux kaj or heart of heaven.
The Mayans believed that Chaac brought abundant harvests, and during times of drought they would hold a special ceremony to please the rain god and eliminate any negativity in the air. The ceremony consisted of tossing offerings into the water as a symbol of purification while chanting prayers for a plentiful harvest. These Mayan rituals are notable for both their artistry as well as their magical customs involving all the senses to stimulate abundance and a state of well-being.
Our Mission
It is our mission at Villa del Palmar Cancun's Village Spa to bring the ancient healing properties of the Mayan U Bejil Mayab, which means the "Mayan healing way" into every experience at the spa. Well ahead of its time, the ancient Mayan culture still has much to teach us about connecting with our inner peace and finding our own personal tranquility. Taking into account this age-old Mayan wisdom, we have adapted and modernized some techniques in order to offer a unique and magical experience.
Enjoying a treatment at the Village Spa becomes much more profound as you experience the legacy of our ancestral Mayan culture and its efficient and dynamic use of herbs and rituals. While preserving the customs and tradition of the Mayans, we offer guests a completely new and innovative concept: A Holistic-Mayan Spa where you will encounter ancient wisdom and magical experiences combined with the latests spa techniques and practices.