Cancun all Inclusive plan
Villa del Palmar at Mexican Caribbean
For the best all inclusive vacations in Mexico, enjoy this all inclusive plan in Cancun fit for gourmet connoisseurs that exceeds the appetite and redefines quality among Cancun all inclusive resorts. Villa del Palmar Cancun in the Mexican Caribbean is proud to offer guests an all-inclusive resort option with fine dining privileges that take the quality and creativity of resort cuisine to new levels.
What's Included in this Cancun All Inclusive Resort?
Gourmet Dining
From delighting the most discerning connoisseurs to making sure your club sandwich and fries are just the way you like them, our gourmet dining options are designed to indulge everyone's taste and take hotel cuisine to another level.
mapView map of Restaurants
Includes flavored and regular margaritas, vodka, whisky, tequila, house brands, soft drinks, chilled juices and local brand mineral water. Bottled drinks are not included. Only house wines are included in the all inclusive plan; other wines and premium liquors will be charged accordingly.
picture_as_pdf Download Food & Beverage program
listView drink list
Included drink list
(Subject to availability)
Vodka
Smirnoff
Wiborowa
Tanqueray Sterling
Absolut Mandarin
Absolut Citron
Absolut Azul
Absolut Raspberry
Stolichnaya
Finlandia
Sky
Grey goose
Belvedere
Gin
Tanqueray
Beefeater
Bombay Sapphire
Tequila Mezcal
Jimador Blanco
100 años Blanco
Cuervo Especial
Jimador Reposado
100 años Azul
Cazadores Reposado
Milagro Plata
Sauza Hornitos
1800 Blanco
Agavero
Don Julio Blanco
Don Julio Reposado
Cuervo Tradicional
Milagro Plata
1800 Reposado
Sauza Conmemorativo
Herradura Blanco
Herradura Reposado
Don Silverio Resposado
Scotch
Passport
J&B
JW Red Label
Canadian Mist
Southern Comfort
Canadian Club
JW Black Label
Chivas Regal 12
Buchanans 12
Old par
Ballantines
Crown Royal
Bourbon Brandy
Jim Beam
Presidente Solera
Don Pedro
Fundador
Azteca de Oro
Terry Centenario
Torres 5
Jack Daniels
Torres 10
Martel VS
Ron
Appleton Blanco
Bacardi Blanco
Bacardi Añejo
Matusalem Clasico
Appleton Añejo
Capitan Morgan
Havana Club Blanco
Haba Club 3
Malibu
Solera
Matusalem Platino
Flor de caña de 7
Appleton State
Havana 7
Aperitivo Cordial
Xtabentun
Licor de Anis Dulce
Rompope
Anis Kamel Ducle
Anis Kamel Seco
Fraydomenico
Amargo de Angostura
Port Sheffield Towny
Amareto Di Amore
Licor Chichon Dulce
Licor Chichon Seco
Licor de Damiana
Sambuca Di Amore
Dubonnet
Licor Jondef
Jerez Tio Pepe
Kahlua
Midori
Licor 43
Sambuca Vaccari
Bailey ́s
Frangelico
Campari
Amaretto Disaronno
Vaccari Negro
Pernod
Cointreau
Drambuie
Casis
Martini Blanco
Martini Extra Dry
Martini Rosso
Licor Strega
Grand Marnier
Galliano
Activities and Entertainment
Villa del Palmar Cancun offers a host of activities for all the family, including themed nights, dancing lessons, kayaking and snorkeling tours, yoga and stretching classes, culinary events, wine and tequila tasting and more.
picture_as_pdfView Activities Program
24 Room Service
Breakfast, Kids Menú, lunch and dinner and more.
 View Menu
Mini Bar
Bottled drinks 600ml, coca, coca light, Corona, Modelo or Pacifico. Refilled once a day only.
Water Sports
Use of all non-motorized water sports equipment
On the beach
Day beds available, showers and towels
Fitness Center
Daily access to our state-of-the-art Fitness Center
Kids Club
Games, craft materials, sandpit, movies and more.
 View Program
Romantic and Fun Activities
30% discount at Romantic Dinner and Mexican Night.
 View Program
The Best All inclusive vacations in Cancun! check_circleBest Price Guaranteed
hotelflight Hotel + Flight
All inclusive From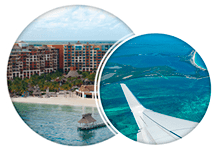 hotel Hotel Only
All inclusive From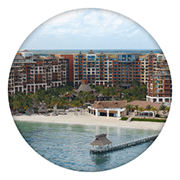 Telephone Calls, Spa Services
On site Deli consumptions, Groceries and Souvenir purchases at the Palmita Market
Take-out food or beverages from Resort Restaurants or Bars
Alcohol or wine bottles to the room
Lobster, lamb, angus steak
Handicrafts
Laundry and dry cleaning service

Transportation: Airport to Resort / Resort to Airport

Internet service
listView Not Included Drink List
Not Included
drink list
(Subject to availability)
Tequila Mezcal
Herradura Antiguo añejo
Herradura Anejo
Milagro Añejo
Gran Jurado Añejo
Don Julio Añejo
Tres Generaciones Añejo
Mano Negra Espadin
Amores
Scotch
Chivas Regal 18
Buchanans 18
JW Gold Label 18
JW Blue Label
Bourbon Brandy
Courvoisier
Carlos I
Martel VSOP
Remi Martin VSOP
Henessy X.O
Henessy VSOP
Important Information
Check-out is at 12 PM, at which time All Inclusive privileges terminate. Purchases at the restaurants or bars after this time must be paid for with a credit/debit card directly at the restaurant or bar. Check-in is at 4 PM.
This Cancun all inclusive vacations resort program cannot be combined with any other promotion.
You must wear and show your bracelet at all times within the Villa del Palmar Cancun beach resort and sign a check each time you order any food or beverages.
Gratuities are included with this best price guarantee. Should you desire to leave the server an additional tip, you may do so. Please note that any gratuity you add to your check will be charged separately to your account at Villa del Palmar Cancun.
Please note that we reserve the right to refuse service to obviously intoxicated guest(s) not observing house rules, whether reserved on an all inclusive package or otherwise.
The all inclusive vacations bracelet and package are for personal use at Villa del Palmar Cancun only and are non-transferable. Misuse will result in your all inclusive resort privileges being revoked without any refund.
The all inclusive vacations package must be for a minimum of 3-days. Once purchased, the Cancun all inclusive resort package cannot be cancelled and no refund will be given.
The all inclusive vacations package must be for all persons in your room, and in your party including children over 4 years old. Children between 4 and 12 years old are charged half price.
Adult prices apply to children aged 13 and over and do not include alcoholic beverages. Alcoholic beverages will only be served to those who are 18 years of age and older. ID may be requested for this all inclusive vacations package.