Villa del Palmar Cancun
Luxury Beach Resort & Spa
Villa del Palmar Cancun beach resort is an unparalleled Mexican oasis for both room only and all inclusive vacations in Mexico, offering a best price guarantee. Delighting visitors of all ages seeking the ultimate in relaxation, luxury accommodations and gourmet cuisine, you can be sure to enjoy fabulous experiences at this Cancun all inclusive resort. From the smallest to the wisest, there is something for everyone within this idyllic Mexican Caribbean resort where falling in love again comes as part of the package.
Designed to reflect the Mayan legacy, first-class amenities are cradled within a palm-studded optional all inclusive resort that offers extensive world-class spa and fitness facilities, four swimming pools and a variety of gourmet dining options. Villa del Palmar Cancun's dedicated kids club with splash pool and a host of activities on land and sea keeps both little-ones and grown-ups fully entertained. Whether opting for all inclusive or room-only, Villa del Palmar Cancun's bilingual staff always deliver uncompromising first-class service.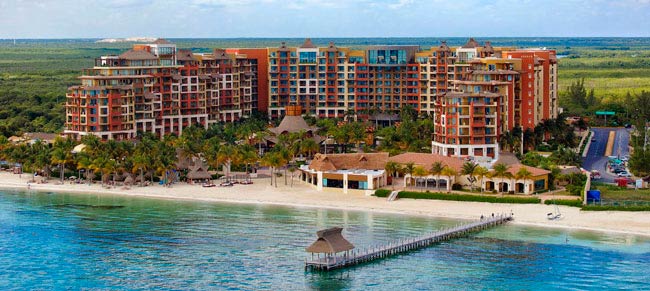 Why book with us?
Villa del Palmar Cancun optional all inclusive resort: Up to 50% Off! By booking with us directly you will ALWAYS receive the best offers available to Cancun. Learn more about this and more benefits here!
Cancun Live Webcam
Watch the fun and weather in Cancun as it happens at Villa del Palmar Cancun by checking out the real time webcam at our 5 Star all inclusive vacations resort in Mexico's Caribbean. Enjoy!
This **Cancun Beach Resort** offers elegant suites with spectacular views, oversized balconies adorned with hammocks, and spacious interiors decorated with modern-chic design, where leaving your suite is a bittersweet task.
For guests at Villa del Palmar Cancun beach resort seeking that extra special touch of class, our limited edition Luxury Residences range offers a selection of unique ultra-lavish suites which will delight even the most discerning visitor.